[ad_1]

But when they were initially forced to shut down, Jenée and Turquoise knew
they had to act fast to pay the mortgage and keep Lavish afloat while also
providing their customers with the products and services they needed.
They devised a strategy to bottle, package, and fulfill their hair growth
serum for local customers, spending their days at the closed salon filling
orders and setting a few pickup days per week.
This strategy proved so successful that they developed accompanying at-home
products that have transformed their business from a local salon to a
successful retailer with customers as far as Texas and California.

Little Goat Coffee Roasting

The COVID-19 pandemic proved to be a turning point for
Little Goat Coffee Roasting's owners, Joe Lins and Olivia Brinton.
After having started Little Goat in
2017 at a local framer's market with two dollars in savings, bucking the
odds was something they were accustomed to.
So when the COVID-19 pandemic forced Joe and Olivia to close their
over-the-counter retail business in Newark, Del. for six weeks, they
pivoted to wholesaling the coffee beans they import and roast to local
supermarkets and built an e-commerce site to sell beans directly to
consumers.
These changes to their daily operations helped to cover expenses and avoid
laying off employees, who helped fulfill online orders.
When they we able to re-open, Little Goat's small indoor space was not able
to serve customers, so they opened ordering and pickup windows, which have
proved so popular and successful that they have become part of Little
Goat's main operations.

Annamarie's Place

After being in business in Royersford, Pa. for 26 years, Annamarie Chestnut
knew she had to prioritize two things when the pandemic hit: her team and her community.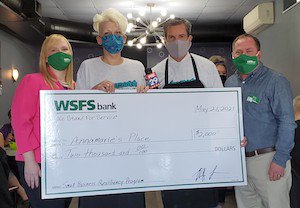 Her team wanted to work, so Annamarie's Place quickly switched
from a breakfast and lunch establishment to serving all meals as a takeout
restaurant. Having never served dinner before, Annamarie's purchased food
and supplies from other restaurants who could not stay open, helping them
recover some of their money.
Having pivoted so quickly, Annamarie was "flying blind" when ordering food
quantities but also knew local families were in need, so any food that was
close to expiration was given away.
Annamarie's team also rallied to create a Facebook coupon campaign that
featured restaurants and other businesses that were able to stay open and
serve customers, taking an "all for one and one for all" approach to
navigating the pandemic, one day at a time.

Max Fitness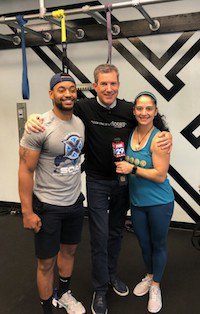 Eric Hailey had a feeling COVID-19 would impact his business, Max Fitness
in Mt. Laurel, NJ, even before shutdown orders took effect. Two weeks
prior, he began recording "One Weight Workout" videos for clients so they
could stay in shape while his fitness center was shut down.
When his business was forced to close its physical location, Eric was
ready. He encouraged clients to come to Max Fitness, socially distanced, to
borrow dumbbells, kettlebells and other equipment to complete their "One
Weight Workouts" at home, helping to make the videos a huge success and
creating a new online community of Max Fitness clients and fans.
Eric continues to produce "One Weight Workout" videos every day for his
clients who are not ready to return to the gym but want to continue their
workouts and stay connected to the Max Fitness community.
Congratulations to all the WSFS Bank
Small Business Resiliency Program winners!
[ad_2]

Read More:Celebrating small businesses that inspired and thrived during the pandemic